»News
»News senden


»Previews
»Tests
»Screenshots
»Tricks


»Releases
»Zeitschriften
»History
»Die Konsolen


»Wallpaper
»Soundfiles
»Movies
»Sonstiges


»Forum
»Gästebuch
»Chat
»Partner


»Links
»Presse
»Team
»Copyright
»Impressum

Resident Evil 4 kommt für PS2


von PerfectPlayer am 1. 11. 2004, 11:15 Uhr



Wie Capcom nun bestätigte, wird das Action-Adventure Resident Evil 4 (Biohazard 4) nicht mehr GameCube-exklusiv sein. Das spiel wird ebenfalls auf der PlayStation 2 veröffentlicht werden.

Als einen Grund für die Umsetzung gibt Capcom an, dass viele Fans Resident Evil 4 auch auf anderen Plattformen als den Gamecube spielen wollen. Ebenso sind die ständig wachsenden Märkte in USA und Europa sowie entsprechende Vorschläge von Aktionären und Investoren Gründe für eine PS2-Umsetzung.

Das Spiel soll auf der PlayStation 2 Ende 2005 erscheinen.
PSP macht nicht so schnell schlapp


von PerfectPlayer am 31. 10. 2004, 15:09 Uhr



Wie vor einiger Zeit gekannt wurde, soll die Standardbetriebszeit der Akkus zwischen 4 - 6 Stunden liegen. Diese Zeit ist ein Durchschnitt und varriert von Prozessorauslastung, Laufwerksbenutzung sowie WLAN-Betrieb und anderen dingen. So kann die Betriebsdauer durchaus bei Puzzlespielen länger sein als bei aufwendigeren Actionspielen.
Allerdings äußete Ken Kutaragi, Präsident von Sony Computer Entertainment, in einem Interview mit Gamespot seine Hoffnung, dass in Zulunft die Akku-Laufzeit zwischen 10 und 12 Stunden liegen könnte. Dies weist durchaus auf die Möglichkeit eines zu einem späteren Zeitpunkt veröffentlichen stärkeren Akkus hin.
GTA: San Andreas - Offiziell in Deutschland erhältlich


von Nightmare am 29. 10. 2004, 14:02 Uhr



Ab heute ist GTA: San Andreas offiziell in unseren Läden erhältlich. Einige Läden hatten es auch schon gestern in ihren Regalen und konnten schon ein paar Leute glücklich machen.
WWE SmackDown! VS. RAW - PAL Termin


von Nightmare am 27. 10. 2004, 0:29 Uhr



THQ gab bekannt, dass das online-taugliche Wrestlingspiel WWE SmackDown! VS. RAW am 12.11.04 in Europa erscheinen wird.
Zoids Struggle - Offizielle Homepage


von Nightmare am 27. 10. 2004, 0:27 Uhr



Tomy hat die offizielle japanische Homepage zum Actionspiel Zoids Struggle eröffnet.
Der Release soll in Japan am 18.11.04 sein.

>> Hier gehts zur Seite
GTA: San Andreas - Geschätzte Verkaufszahlen


von Nightmare am 27. 10. 2004, 0:23 Uhr



GTA: San Andreas kam am Dienstag in die Geschäfte, in den USA, und es könnte innerhalb der ersten Woche weltweit mehr als 4,5 Millionen mal verkauft werden. Es sind Verkaufszahlen von 13 Millionen bis 15 Millionen Einheiten für GTA: San Andreas möglich, laut den Einschätzungen von American Technology Research Analyst P.J. McNealy.

Bei 15 Millionen verkauften Einheiten wäre das Spiel weitaus erfolgreicher als der Film Titanic in Nordamerika.

Quelle: GameFront
GTA: San Andreas - Soundtrack


von Nightmare am 25. 10. 2004, 14:09 Uhr



Der offizielle Soundtrack von GTA: San Andreas wurde bekannt gegeben.

Radio:X
DJ: Sage
Musikstil: Alternativ, Rock

Depeche Mode - Personal Jesus
Helmet - Unsung
Danzig - Mother
Guns N' Roses - Welcome To The Jungle
Faith No More - Midlife Crisis
Living Colour - Cult Of Personality
Alice In Chains - Them Bones
Stone Temple Pilots - Plush
Primal Scream - Movin' On Up
L7 - Pretend We're Dead
Ozzy Ozbourne - Hellraiser
Jane's Addiction - Been Caught Stealing
Soundgarden - Rusty Cage
The Stone Roses - Fool's Gold
Rage Against The Machine - Killing In The Name


Sender: Master Sounds
DJ: Johnny 'The Love Giant' Parkinson
Musikstil: Soul, Rare Groove, Classic Funk

Maceo And The Macks - Cross The Tracks (We Better Go Back)
Sir Joe Quarterman - So Much Trouble In My Mind
Harlem Underground Band - Smokin' Cheeba Cheeba
Bobby Byrd - Hot Pants
Bobby Byrd - I Know You Got Soul
The Chakachas - Jungle Fever
Bob James - Nautilus
Booker T And The MGs - Green Onions
The Blackbyrds - Rock Creek Park
James Brown - Funky President
James Brown - The Payback
Lyn Collins - Think About It
Lyn Collins - Rock Me Again And Again
Charles Wright - Express Yourself
War - Low Rider
Maceo And The Macks - Soul Power 74
The JBs - Grunt
Gloria Jones - Tainted Love


Sender: Bounce FM
DJ: The Funktipus
Musikstil: Funk

Cameo - Candy
Zapp - I Can Make You Dance
Dazz Band - Let It Whip
Ohio Players - Love Rollercoaster
Fat Back - Yum Yum
Isley Brothers - Between The Sheets
Kool and the Gang - Hollywood Swinging
Ronnie Hudson - West Coast Poplock
Lakeside - Fantastic Voyage
Rick James - Cold Blooded
George Clinton - Loopzilla
Roy Ayers - Running Away
Ohio Players - Funky Worm
MFSB - Love Is The Message
Johnny Harris - Odyssey
The Gap Band - You Dropped A Bomb On Me
Maze - Twilight


Sender: Playback
DJ: Forth Right MC
Muskstil: Hip-Hop

Public Enemy - Rebel Without A Pause
Big Daddy Kane - Warm It Up Kane
Gang Starr - BYS
Spoonie G - The Godfather
Masta Ace - Me And The Biz
Slick Rick - Children's Story
Ultramagnetic MCs - Critical Breakdown
Eric B and Rakim - I Know You Got Soul
Rob Base And DJ EZ Rock - It Takes Two
Biz Markie - The Vapours
Brand Nubian - Brand Nubian
Kool G - Road To The Riches


Sender: K-DST
DJ: Tommy 'The Nightmare' Smith
Musikstil: Rock

Billy Idol - White Wedding
Foghat - Slow Ride
Eddie Money - Two Tickets To Paradise
Grand Funk Railroad - Some Kind Of Wonderful
Creedence Clearwater Revival - Green River
Joe Cocker - Woman To Woman
Heart - Barracuda
Kiss - Strutter
Toto - Hold The Line
Rod Stewart - Young Turks
Tom Petty - Running Down A Dream
Humble Pie - Get Down To It
America - A Horse With No Name
The Who - Eminence Front
Boston - Smokin'
Lynyrd Skynyrd - Free Bird
David Bowie - Someone Up There Likes Me


Sender: K-Jah Radio West
DJ: Marshall Peters & Johnny Lawton
Musikstil: Dancehall, Raga, Reggae und Dub.

The Maytals - Pressure Drop
I Roy - Sidewalk Killer
Black Harmony - Don't Let It Go To Your Head
Willie William - Armagideon Time
Blood Sisters - Ring My Bell
Shabba Ranks - Wicked Inna Bed
Buju Banton - Batty Rider
Dennis Brown - Revolution
Dillinger - Cocaine In My Brain
The Pliars - Bam Bam
Toots And The Maytals - Funky Kingston
Black Uhuru - Great Train Robbery
Barrington Levy - Here I Come
Reggie Stepper - Drum Pan Sound
Max Romeo And The Upsetters - Chase The Devil
Augustus Pablo - King Tubby Meets Rockers Uptown


CSR
DJ: Philip 'PM' Michaels
Musikstil: Sing, Modern Soul

Guy - Groove Me
Soul II Soul - Keep On Movin
Wrecks 'n' Effect - New Jack Swing
Samuelle - So You Like What You See
En Vogue - My Lovin'
SWV - I'm So Into You
Johnny Gill - Rub You The Right Way
Aaron Hall - Don't Be Afraid
Bell Biv Devoe - Poison
Ralph Tresvant - Sensitivity
Today - I Got The Feeling
Bobby Brown - Don't Be Cruel
Boyz II Men - Motown Philly


K-Rose
DJ: Mary-Beth Maybell
Musikstil: Country & Western Music

Statler Brothers - New York City
Statler Brothers - Bed Of Roses
Merle Haggard - Always Wanting You
Conway Twitty And Lorretta Lynn - Louisiana Woman, Mississippi Man
Hank Williams - Hey Good Lookin'
Juice Newton - Queen Of Hearts
Whitey Shafer - All My Exes Live In Texas
Jerry Reed - Amos Moses
Patsy Cline - Three Cigarettes In The Ashtray
Asleep At The Wheel - The Letter That Johnny Walker Read
The Desert Rose Band - One Step Forward
Willie Nelson - Crazy
Eddie Rabbit - I Love A Rainy Night
Mickey Gilley - Make The World Go Away
Ed Bruce - Mamma Don't Let Your Babies Grow Up To Be Cowboys


Radio Los Santos
DJ: Julio G
Musikstil: Sound of the Streets

NWA - Alwayz Into Something
NWA - Express Yourself
Too Short - The Ghetto
Compton's Most Wanted - Hood Took Me Under
Dr Dre - Nuthin' But A G Thang
Dr Dre - Fuck Wit Dre Day
Dr Dre - Deep Cover
Above The Law - Murder Rap
Kid Frost - La Raza
Cypress Hill - How I Could Just Kill A Man
2 Pac - I Don't Give A Fuck
The Doc - It's Funky Enough
Easy E - Easy-Er Said Than Done
Da Lench Mob - Guerrillas In Tha Mist
Ice Cube - It Was A Good Day
Ice Cube - Check Yo Self


SF-UR
DJ: Hans Oberlander
Musikstil: Hous Music

A Guy Called Gerald - Voodoo Ray
Jomanda - Make My Body Rock
808 State - Pacific
NightWriters - Let The Music Use You
Marshall Jefferson - Move Your Body
Joe Smooth - Promised Land
Maurice - This Is Acid
Fallout - The Morning After
Mr Fingers - Can You Feel It?
Cultural Vibe - Ma Foom Bey
Raze - Break 4 Love
Ce Ce Rogers - Someday
The Todd Terry Project - Weekend
Robert Owens - I'll Be Your Friend
Frankie Knuckles - Your Love
28th Street Crew - I Need A Rhythm


WCTR TALK RADIO
Talk Show

Quelle: GameFront
Sega - Vier weitere Spiele für PSP


von Nightmare am 22. 10. 2004, 13:15 Uhr



Sega wird vier weitere Spiele für die PSP entwickeln. Titel und Releasedates sind noch unbekannt, lediglich wurde nur das Genre bekannt gegeben.
Ein Kommunikationsspiel (in der Bezeichnung steht noch der Zusatz Empfindung/Gefühl), ein Multi Kampf-Sportspiel, ein Grafik-Adventure-Spiel und ein Digital Pet.

Quelle: GameFront
Need for Speed Underground Rivals


von Nightmare am 22. 10. 2004, 13:10 Uhr



EA hat in Japan die offizielle Seite zu Need for Speed Underground Rivals, das zum Start der PSP ausgeliefert werden soll, eröffnet.

>> Hier gehts zur Seite

Quelle: GameFront
von Nightmare am 22. 10. 2004, 13:03 Uhr



Capcom hat ein Video zu Viewtiful Joe veröffentlicht.
Das Spiel erscheint am 16.12.04 in Japan.

>> Hier gehts zum Video

Quelle: GameFront
Weitere PSP-Starttitel / Erneute Verschiebung?


von PerfectPlayer am 20. 10. 2004, 13:25 Uhr



Die Kollegen von 1up konnten in einem Gespräch mit Electronic Arts in Erfahrung bringen, dass sich wohl noch mehr Starttitel für die PSP in Entwicklung befinden. So könnten zu den Starttiteln gehören:

- FIFA Soccer
- MVP Baseball
- NBA Street
- NFL Street
- Tiger Woods PGA Tour
- Need for Speed Underground

Der Release dieser Titel ist für März 2005 geplant, jedoch sagt Larry Probst (CEO von EA), dass sich die Markteinführung der PSP in den USA durchaus von März (wie bisher angenommen) auf April 2005 oder ga rnoch auf einen späteren Zeitpunkt verschieben könnte.
Neues GTA San Andreas Video


von PerfectPlayer am 20. 10. 2004, 13:19 Uhr



Rockstar veröffentlicht ein neues Video zu GTA San Andreas, welches am 26.10.04 in den USA erscheint.

>> Download Video
Metal Gear solid 3 - Packshot


von PerfectPlayer am 20. 10. 2004, 13:18 Uhr



Hier ist der japanische Packshot zu Metal Gear Solid 3: The Snake Eater, welches am 16.12.04 erscheint.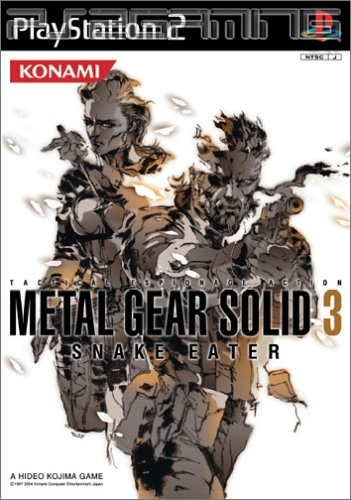 Gran Turismo 4: Packshot, Termin und Preis


von PerfectPlayer am 19. 10. 2004, 14:40 Uhr



Hier ist der japanische Packshot zum Rennspiel Gran Turismo 4, das am 03.12.04 ausgeliefert wird. Der Preis liegt bei Yen 7.665 (Euro 56 / USD 70).